HOT ROLL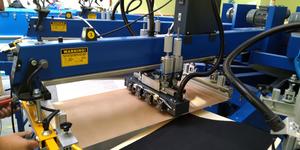 PRINTEX HOT ROLL is heating roller used with PRINTEX automatic machines for final shine of printed ink.
Hot part is mounted on printing carriage, its connected with control unit mounted on top of print head.
Hot roller made of anodised aluminium tube heated with quartz IR lamp.
Power level is controlled as well as true roller temperature.
Cycling speed, cyle numper and preassure applied as printing settings on print head
models avaliable:
HOT ROLL 36 cm, SPECIFICATION